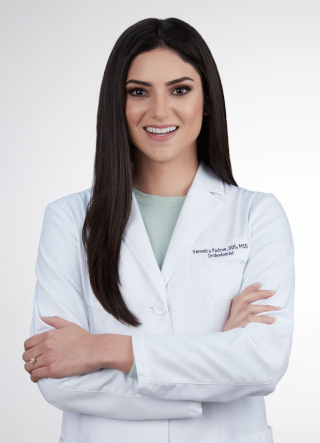 Education:
Doctor of Dental Medicine Degree – Meharry Medical College
Certificate of Advanced Graduate Studies in Orthodontics – Jacksonville University
Master of Science in Dentistry – Jacksonville University
Dr. Padron attended Nova Southeastern University, earning her Bachelor of Science degree in Biology. Upon graduation, Dr. Padron pursued a career in the dental field. She received her Doctor of Dental Surgery degree from Meharry Medical College in Nashville, TN. Finally, her educational career brought her to Jacksonville University School of Orthodontics, where she completed a Fellowship in Orthodontic Clinical Research and received a Certificate of Advanced Graduate Studies in Orthodontics and a Master of Science in Dentistry. Dr. Padron takes part in professional affiliation with the American Association of Orthodontics, Southern Association of Orthodontics and American Dental Association. 
After graduating from residency, Dr. Padron moved to South Florida to be closer to family and the opportunity arose to join the team at Drubi Orthodontics. She is so grateful to have joined such a wonderful practice dedicated to providing excellent orthodontic care to the community. Dr. Padron is very grateful for the people that have supported her and mentored her along her educational journey and this appreciation allows her to give back to the community and improve others' self-esteem by creating beautiful, healthy smiles. 
Being an orthodontist is Dr.Padron's greatest passion, but she also enjoys group workout classes, being a foodie with friends and enjoying free time with her fiance.
Education:
Certificate in Orthodontics – St Barnabas Hospital
General Practice Residency – New York Methodist Hospital
Doctor of Dental Medicine Degree – University of Puerto Rico
Board Certified – American Board of Orthodontics
What I enjoy the most about dentistry is being able to build long lasting relationships with my patients. I chose orthodontics because it gives me the opportunity to change people's lives and be a part of their transformation. The most rewarding part of my career is being able to help other people have a beautiful smile and feel confident about themselves.
Outside of the office I enjoy spending time with my wife Normaliz and my two dogs Luna and Bailey. We live in Miami and we enjoy paddle boarding with our dogs, and other sports and activities such as roller skating, playing volleyball and skiing up north. Aside from Orthodontics, two of my other passions are competing in Kayaking and cross country ski. I represented Puerto Rico in competitive kayaking from 2003-2008.