Miami Invisalign Orthodontist Specialists
Check Out Our Life-Changing Smile Transformations: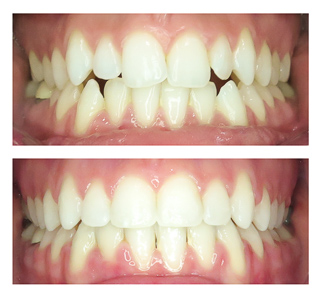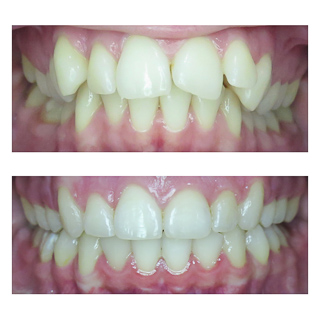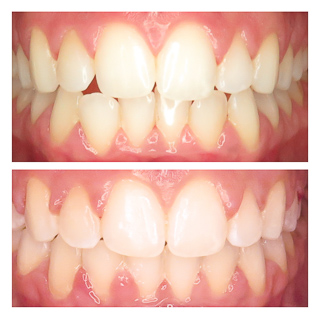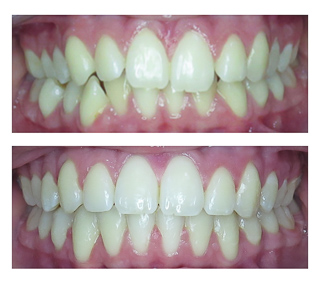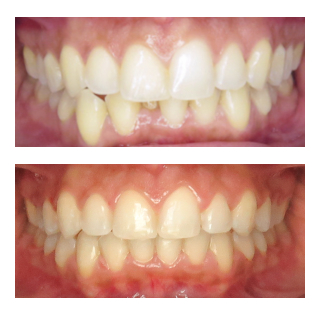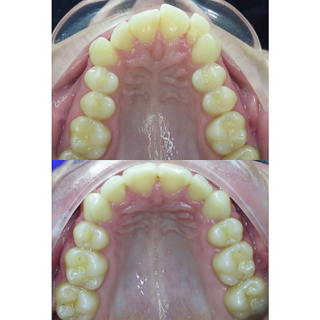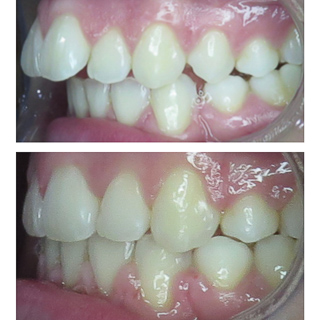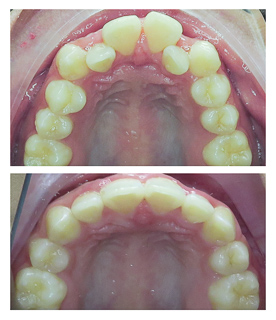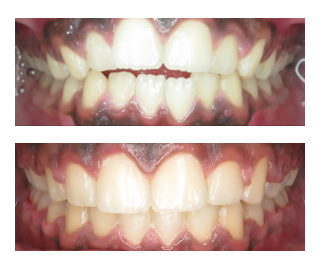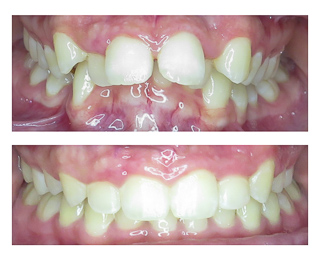 At Drubi Orthodontics, we have created hundreds of beautiful smiles with Invisalign!
Invisalign is a series of clear aligners that move your teeth little by little. 
The process starts by taking a mold of your teeth, which gets scanned into a computer where we are able to tell the software specifically where we want to place every tooth. With the use of computer software, we can now plan for treatment and get results that were just not possible before.
The aligners are very comfortable, very esthetic, and since they move your teeth little by little there is virtually no pain with them.

The aligners have to be worn about 20 hours a day. Invisalign aligners can be removed if you have special events such as public speaking, if you're going on a date, or anything where you don't want to show anything on your teeth. We've found that people really like the option of removing them for special occasions and the fact that they can improve their smiles without it being an interruption on their lifestyle.
Aligners are removable and no special diet is needed. Also, you can continue to brush and floss as you do regularly. 
Invisalign is constantly advancing its technology, and in the right hands, can be used to treat most cases.
At Drubi Orthodontics, we specialize in Invisalign. Straightening teeth and making healthy bites is all we do. We are Certified Invisalign Premier Providers, and can provide you with the best expertise regarding your Invisalign treatment. 
Invisalign Teen® is one of the latest developments by Invisalign®. It is a system that works in the same way as regular Invisalign®, but includes a couple of new features to better serve teenagers. These include:
Compliance Indicators: these are blue dots in the back of the aligners that wear out over 2 weeks. This allows the orthodontist to determine if the patient is being compliant wearing the aligners.

Free replacement of aligners: allows the orthodontist to order replacement aligners if they are ever lost.
Many orthodontists have been hesitant about offering Invisalign® to teenagers. Their main fear is the possible lack of patient compliance. My experience has shown that teenagers are very compliant with Invisalign®. This is especially true if the appropriate time is taken to educate the patient on the pros and cons of this treatment.
Frequently Asked Questions About Invisalign
What is Invisalign®?
Invisalign® is a way of moving your teeth that uses clear removable trays, or aligners.
How long has Invisalign® been around?
Invisalign® was founded on 1997 and started being offered to patients in 1999. Over 5 million patients have been treated since then.
How does Invisalign® work?
The company manufactures a set of aligners to be used in sequence, each one moving your teeth a little more towards the desired final position.
What are aligners made of?
They are actually made of USP Class VI medical-grade, high molecular weight, polyurethane resins (a fancy name for a clear plastic that is safe to put in your mouth!)
Is Invisalign® noticeable?
People will be able to tell you are wearing the aligners if they get really close to you. It is not noticeable in pictures or most day to day interactions.
What are the benefits of straight teeth?
Some of the benefits of straight teeth include:
·      Achieve an amazing smile
·      Achieve a healthy, functional bite
·      Better oral hygiene
·      Improve whole body health
·      Improve speech
·      Improve self-esteem
·      Improve your emotional health
Does Invisalign® hurt?
Way less than most people expect!
Which makes sense since each aligner is designed to only move your teeth ever so slightly, making the process gradual and almost eliminating all discomfort.
How long does Invisalign® take?
It all depends on how much your teeth have to be moved and if your bite also needs to be fixed. The most minor cases can take 6 months, while more complex ones can take over 2 years.
The average case takes between 12-18 months.
Can Invisalign® be used for kids?
Invisalign® has come out with Invisalign® Teen, which is basically the same system with slight modifications to be better suited for teenagers.
One of them is a compliance indicator (blue dot that wears out when the aligner is worn), that allow your doctor to monitor if the aligners are being used as prescribed.
It also includes free replacement of aligners if you lose them (up to 6)
And alterations if extra teeth come into the mouth while in treatment.
Unable to execute JavaScript.
Will Invisalign® work with crown, veneers, bridges, implants?
Yes, Invisalign® can move teeth with crowns or veneers. Invisalign® usually will not move teeth that are part of bridges or implants.
Does insurance cover the cost of Invisalign®?
If your insurance covers braces, chances are it will also cover some part of your Invisalign® treatment. Most dental insurance plans cover somewhere between $1,000-$3,000.
What does Invisalign® feel like?
At the beginning it actually feels a little bit weird, since you have something new in your mouth!
But after a couple of days, you actually get used to them and stop thinking about it.
If you are wondering whether you will be able to use them, sometimes I make patients a clear retainer (which feels pretty similar to Invisalign®) and have them wear it for a week, for them to assess how they feel with it. Every patient I've done this for eventually went on to get Invisalign®.
Who qualifies as a candidate?
Since its start in 1999, Invisalign® has undergone many changes, and can now be used to treat most cases. For some patients, they are even more effective and efficient than traditional braces!
Who should I choose to get my Invisalign® treatment?
I recommend getting your Invisalign® treatment with an orthodontist. I'll explain why:
Both dentists and orthodontists can do Invisalign®. Orthodontists are dentists that became specialists in straightening teeth and fixing bites. They have more experience and expertise to help you.
For example…
One of the most challenging things to do with Invisalign® is to de-rotate a back tooth that is very rotated. In many of these cases, I have put 3 braces around that tooth, de-rotate it in 2-3 months, remove them, and keep going with Invisalign®.
This has allowed me to treat many patients that wouldn't have been Invisalign® candidates otherwise!
What happens during the initial consultation?
The first step to get Invisalign® is to visit us for an initial consultation.
During this initial visit we will take an x-ray of your teeth and perform an examination. The doctor will discuss all the findings and treatment recommendations.
We will also discuss the fees and any financial arrangements. Take this time to ask all the questions you may have and to make sure that you like the doctor and that the treatment suggested makes sense to you!
After all is agreed upon, many times you can get started on the same day with the first step – diagnostic records.
What are diagnostic records?
So you've decided to get Invisalign® – now what?
The first step is for your doctor to obtain diagnostic records (a fancy word for information about your teeth)
These usually includes any additional x-rays, pictures of your face and your teeth, and molds of your teeth. The molds will be sent to the Invisalign® lab to start the process.
How long do the aligners take to come back?
Getting the aligners back to the office usually takes 3-4 weeks.
How long does it take to put them on?
The first appointment will usually take around 45 minutes. During this visit, we will place attachments on your teeth (see below), give you your initial set of aligners, and instructions.
What are attachments?
Attachments are little tooth colored shapes that are added to some of your teeth to help during the Invisalign® treatment.
Think of attachments like handles on your teeth. Whenever a tooth movement is challenging, Invisalign® adds an attachment to help the aligner grip the tooth better and assist with the movement necessary.
After treatment is done, the attachments are removed by polishing them away.
How long are aligners worn for?
Each aligner is worn for 1-2 weeks
Do aligners stain if I smoke?
Smoking with the aligners on will stain them faster and make them smell.
Can you drink alcohol with Invisalign®?
You can, just as long as you remove your trays, especially when drinking darker drinks like red wine. This will avoid staining them.
Can I chew gum with Invisalign®?
I recommend that you don't chew gum with the Invisalign® aligners on. There are two reasons.
The first one is that you most likely won't be able to, as it will grab the aligners and dislodge them.
The second being that chewing with your aligners on might break them or wear through the biting surfaces.
Can the aligners come out accidentally?
Not likely.
The aligners are made specifically for your teeth, which means they fit very snuggly. They are even hard to remove sometimes, especially if you have many attachments.
Will Invisalign® affect my speech?
Having plastic behind your upper front teeth (where our tongue touches when pronouncing the S sound) can give some patients a slight list that goes away after a day or so after getting used to speaking with the aligners.
Are there any diet restrictions with Invisalign®?
There are no dietary restrictions with Invisalign.
You can eat and drink whatever you want while in treatment, as long as you remove your trays to eat and drink anything other than water.
How often do I have to come in for adjustment visits?
Invisalign® appointments are usually anywhere between 6-10 weeks apart.
Can you whiten your teeth with Invisalign®?
Yes!
Since the trays actually fit perfectly over your teeth, you can use them as whitening trays.
How long are check up appointments
Check up appointments are actually super short, 10-15 minutes in most instances.
How do I brush and floss with Invisalign®?
This is one of the best parts of Invisalign®. Your oral hygiene routine, aka. brushing and flossing, will not have to change at all.
Since you remove the trays to brush and floss, you can continue doing them as you normally would.
How do I clean the aligners?
Cleaning the aligners is pretty straightforward.
All you need is to brush them with your toothbrush under warm water when you take them out. Make sure the water is not hot, since it can distort the aligners.
You can also use other products, some of them offered through the Invisalign® website, that help in cleaning them.
Keeping your aligners clean is very important since they can sometimes start to smell after a few days if you don't clean them properly.
An error occurred.
Does Invisalign® stain?
Invisalign® shouldn't stain if you don't eat or drink anything other than water with them.
After they stain, it's usually hard to remove the staining, and you may have to wait until your next set of aligners.
Can you wear rubber bands with Invisalign®?
Yes!
Rubber bands can be used with Invisalign. This means that many more cases can now be treated with Invisalign®.
How about snacking with Invisalign®?
Since you have to remove your trays to snack, most people actually report that they snack less when they have Invisalign®.
Is it true that most people lose weight with Invisalign®?
Yes, a lot of people have reported losing a little bit of weight with Invisalign®.
This is due to the fact that you have to remove them for meals, which means you will most likely cut back on little snacks throughout the day and stick mostly to whole meals.
What if I lose my aligners?
If you lose a set of aligners, the course of action might depend on where you were with your current aligner.
If you are close to the next one, aka after the first week, I recommend to just jump to the next one.
If you are still in your first few days, you may be better off going back to the previous ones and having your doctor order you a replacement aligner.
Will I need to visit my doctor after being done with my Invisalign® treatment?
Yes.
This is an important step to make sure that your teeth are staying in their new position and not shifting back.
They also serve to make sure your retainers are fitting well and to make adjustments to them if necessary.
How Much Does Invisalign Cost?
Braces Treatment
$2,300-$3,995*
12 Months of Observation After Treatment

Satisfaction Guaranteed on All Our Treatments
Invisalign Treatment
$3,695-$5,695*
12 Months of Observation After Treatment

Satisfaction Guaranteed on All Our Treatments
*Actual fee will depend on length of treatment required, which will be determined during your consultation. Monthly payments shown based on financing through CareCredit® at 16.9% for 48 months.
Free Consultation – Our doctors will perform a full examination and discuss all findings and treatment options that best fit your needs – at no charge and with no obligation. We don't believe in pressure selling or tactics. We are an honest group of people that worship our reputation and we are here to help in any way we can.
Low Monthly Payments – Our goal is to make our exceptional treatment and service available to everybody. That's why we offer 0% in-house financing. We don't require any credit history or information. We do this in good faith to help our patients. For those who need it, we also offer extended payment plans through CareCredit.
Transparent Pricing – All our treatments are all-inclusive. We don't charge extra for anything related to your treatment. Whether you have an emergency, break a bracket, need a special appliances, or just want to come in to discuss your treatment – we never charge extra for any of these. We want to get the financials out of the way so we can focus on what we do best – provide exceptional patient care.
Free retainers with treatment – All our treatments include free retainers. We don't charge separately for retainers like you may have heard in other practices. We also do follow-up appointments for a year after treatment is completed. Our reputations is very important to us and we want to make sure you're happy during and after treatment.
We accept most dental insurances – Our team will work with you and your insurance company to get you the most coverage possible, thus reducing your total cost.
Satisfaction guaranteed on all our treatments – Our ultimate goal is to make our patients happy. We are in the "happy people" business. That's why we have a satisfaction guaranteed on all our treatments – or your money back.
Our Promise – That we will treat you as family and that we'll put our hearts and souls into making this the best experience you'll ever receive with any health care provider.
New Year Limited Time Promotion
Request your Free Consultation in the next:
and receive a Professional Whitening Treatment (a $300 value) for FREE when you start your treatment