Miami Braces Orthodontist Specialists
Check Out Our Life-Changing Smile Transformations: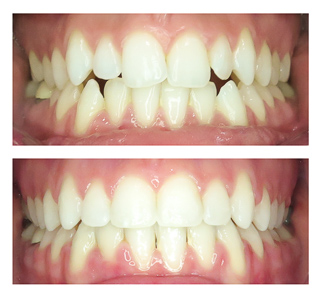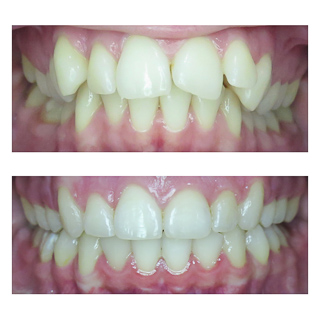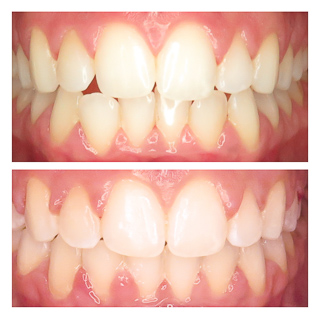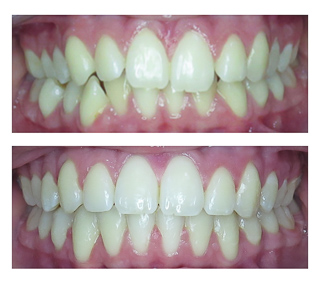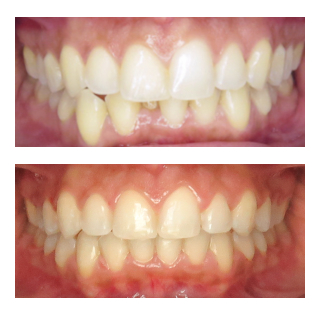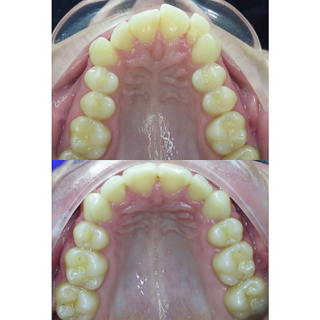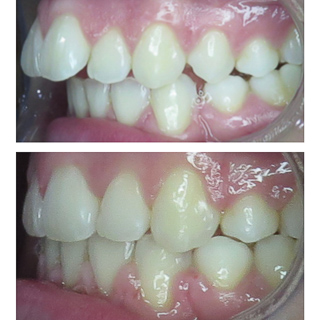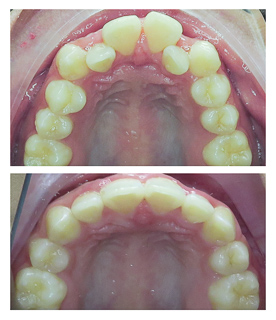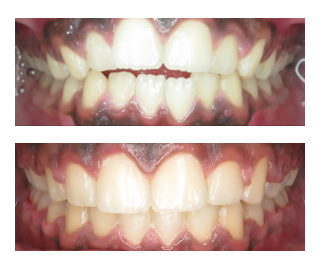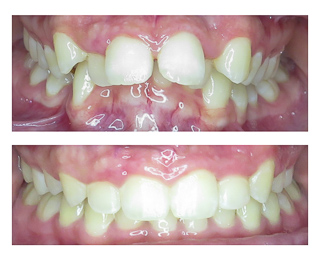 At Drubi Orthodontics, we specialize in braces in Miami for both children and adults. That is why we offer the latest products available in the market, including self ligating speed braces.
In-Ovation self ligating braces are the latest advance in orthodontic treatment. Traditional metal braces require small rubber bands that are used to hold the wire in place. With the In-Ovation system, these have been replaced with a sliding door that holds the wire in place.
With the new system, the wire is held loosely to the bracket, decreasing the amount of friction in the system.
This results in many advantages including less pain, faster treatment times, fewer appointments needed, shorter appointment times, cleaner and more esthetic.
Self Ligating Metal Braces
Metal braces have evolved with time and are now smaller, smoother, and more comfortable than ever.
The science behind the wires has come tremendous lengths in the last years, and newer wires that place gentler forces on your teeth are now available.
These advances make orthodontic treatment much easier and comfortable to go through, and the old ways of tightening braces are no longer a problem.
Self ligating braces are braces that use a gate to hold the wire in place, instead of the traditional rubber bands (In-Ovation® braces pictured above). This change reduces the friction in the whole system, and teeth are more free to move around. This results in many benefits:
The first advantage is that there is no rubber band to change, thus appointments can usually be every 6-8 weeks, reducing the amount of school or work patients have to miss to come in for adjustments.

The second advantage is that the wire is not forcibly held against the braces. This reduces the amount of force placed on the teeth, making them more comfortable to wear.

The third advantage is that these braces don't have a rubber band that collects plaque, making them much more hygienic and easier to keep clean.
Not all orthodontists work with self ligating braces. If any of these advantages are important to you, I recommend finding an orthodontist that offers them as a treatment option. At Drubi Orthodontics, we work exclusively with self ligating braces because of the many benefits that it provides for our patients.
Self Ligating Clear Braces

Clear braces work in much the same way as metal braces. The main difference is that they are made of a clear ceramic material, making them blend in with the teeth and look much more esthetic. They provide an alternative to kids and adolescents that wish to straighten their teeth in a more esthetic way.
Clear braces come in the traditional form, in which a rubber band holds the wire in place, and in the self ligating variety (In-Ovation® clear braces pictured below).
One of the main problems with the traditional ceramic braces was that the wire was held in place by a little rubber band that stains over time, and can start looking not so "clear" after a while.
The staining of the rubber band was a major problem. It went from being clear braces to dirty braces, especially for people that frequently drink coffee, tea or wine. And that was not the only problem. The rubber bands lose their strength and need to be changed about every 4 weeks, requiring you to come in once a month for adjustments, many of them unnecessary.
This problem was solved with self ligating clear braces. Besides all the benefits outlined above, these braces don't stain. Patients are now able to eat and drink without fear of their braces staining.
Frequently Asked Questions About Braces
How Long Does Treatment Take?

Orthodontic treatment in children and adolescents usually takes between 12-24 months. The treatment time varies depending on the complexity of every case.
Minor problems in kids and adults can sometimes be corrected in as little as 6-12 months in most cases.
How Soon Can I Tell If My Child Needs Braces?

This is one of the most common questions we receive on a daily basis and one of the most important for parents to know. While most kids will receive braces when they get all their permanent teeth (around 10-12 years old), there are some kids that will benefit from early interceptive treatment before that time. The American Association of Orthodontists recommends that all children receive an evaluation by an orthodontist no later than the age of 7.
At the age of 7, an orthodontist can start seeing problems develop that might affect your child in the future. Catching these problems early can help you avoid more complex treatments such as extractions of teeth or surgery in the future. It may also reduce the amount of time your child will need to be in braces, ultimately saving you time and money.
The best way to know if your child needs braces is to have an evaluation by one of our orthodontists. We will be able to tell you if your child is ready for braces or help you determine the best time to get started.
What If My Child Is Not Ready For Braces?

Many parents are shocked to hear me say that we should wait to start their kid's treatment. Many of them have even been told by another orthodontist that they should get started right now!
This can be very confusing to parents, and I don't blame them! Receiving different opinions from different specialists can be very frustrating. In the end, the main goal should be to achieve the best result in the fastest and most comfortable way possible.
At Drubi Orthodontics we have a recall programs where we perform periodic evaluations every 6-12 months to monitor how your child is growing and to determine the best time to start braces.
If your child is not ready for treatment, we might suggest placing your kid in our recall program.
This program is provided to all our patients free of charge.
Determining the best time to start treatment is very important. Starting at the right time can save you money and time in braces, and it can make treatment as simple as possible, minimizing the chances of gum disease, cavities, tooth sensitivity, and many other problems that arise from lengthy treatment.
Yes! In fact, over 20% of orthodontic patients in the US are adults! With the new advances in technology and esthetic options available, it has never been a better time to fix your smile. People often think that they are too old for braces, but this is not the case. You can get braces at any age.
In fact, adults are usually the ones that get the most satisfaction over straightening their smile. This is because most people with crooked teeth have always thought about fixing them but because whether they thought it was too painful, too expensive, or they were too old for braces, never got around to it.
Many adults are now realizing the benefits of a healthy, attractive smile, and are amazed by the change in how they feel about themselves after dealing with something that had been bothering them for years!
Braces Treatment
$2,300-$3,995*
12 Months of Observation After Treatment

Satisfaction Guaranteed on All Our Treatments
Invisalign Treatment
$3,695-$5,695*
12 Months of Observation After Treatment

Satisfaction Guaranteed on All Our Treatments
*Actual fee will depend on length of treatment required, which will be determined during your consultation. Monthly payments shown based on financing through CareCredit® at 16.9% for 48 months.
Free Consultation – Our doctors will perform a full examination and discuss all findings and treatment options that best fit your needs – at no charge and with no obligation. We don't believe in pressure selling or tactics. We are an honest group of people that worship our reputation and we are here to help in any way we can.
Low Monthly Payments – Our goal is to make our exceptional treatment and service available to everybody. That's why we offer 0% in-house financing. We don't require any credit history or information. We do this in good faith to help our patients. For those who need it, we also offer extended payment plans through CareCredit.
Transparent Pricing – All our treatments are all-inclusive. We don't charge extra for anything related to your treatment. Whether you have an emergency, break a bracket, need a special appliances, or just want to come in to discuss your treatment – we never charge extra for any of these. We want to get the financials out of the way so we can focus on what we do best – provide exceptional patient care.
Free retainers with treatment – All our treatments include free retainers. We don't charge separately for retainers like you may have heard in other practices. We also do follow-up appointments for a year after treatment is completed. Our reputations is very important to us and we want to make sure you're happy during and after treatment.
We accept most dental insurances – Our team will work with you and your insurance company to get you the most coverage possible, thus reducing your total cost.
Satisfaction guaranteed on all our treatments – Our ultimate goal is to make our patients happy. We are in the "happy people" business. That's why we have a satisfaction guaranteed on all our treatments – or your money back.
Our Promise – That we will treat you as family and that we'll put our hearts and souls into making this the best experience you'll ever receive with any health care provider.
New Year Limited Time Promotion
Request your Free Consultation in the next:
and receive a Professional Whitening Treatment (a $300 value) for FREE when you start your treatment