Find out why people are describing Drubi Orthodontics as "The best experience I've ever had"
"They were super transparent on what I needed, costs, etc. I didn't feel like I was just a dollar sign to them like other orthodontists have made me feel."
What You'll Find On This Page:
Miami Orthodontist - Braces and Invisalign Specialists
Check Out Our Life-Changing Smile Transformations: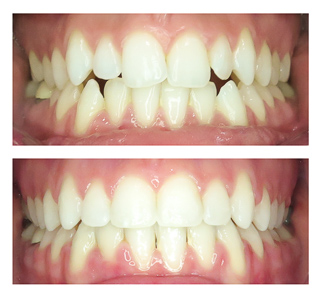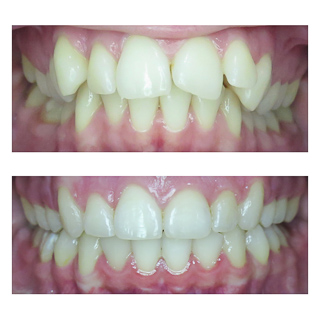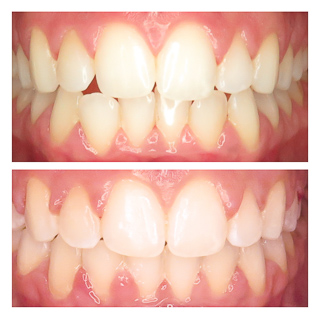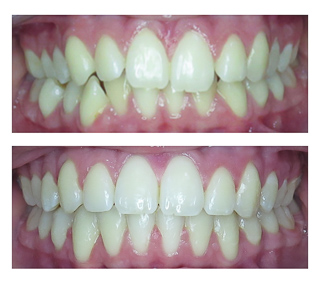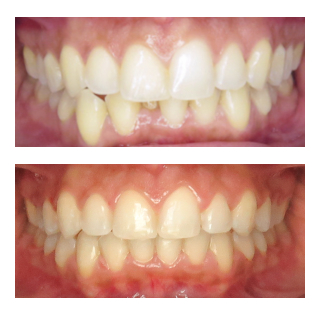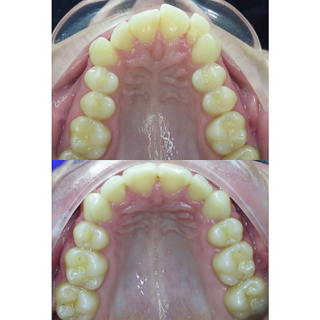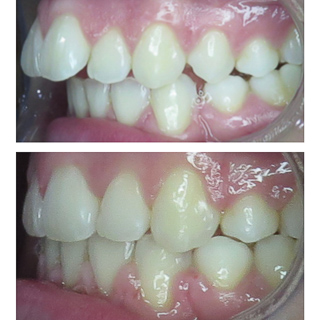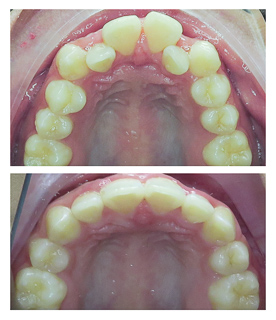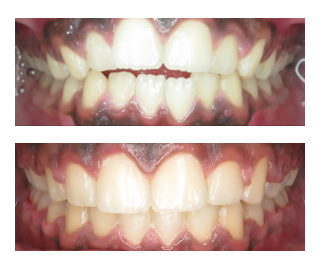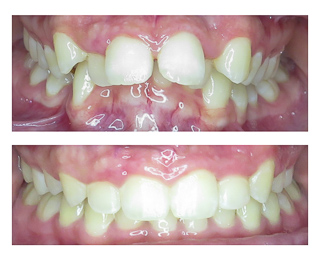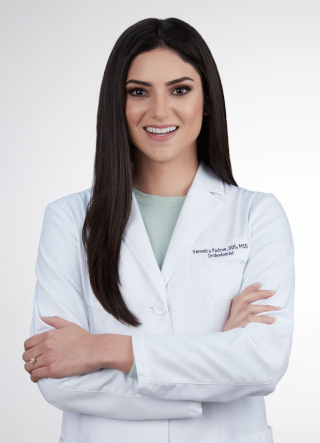 Education:
Doctor of Dental Medicine Degree – Meharry Medical College
Certificate of Advanced Graduate Studies in Orthodontics – Jacksonville University
Master of Science in Dentistry – Jacksonville University
Board Certified – American Board of Orthodontics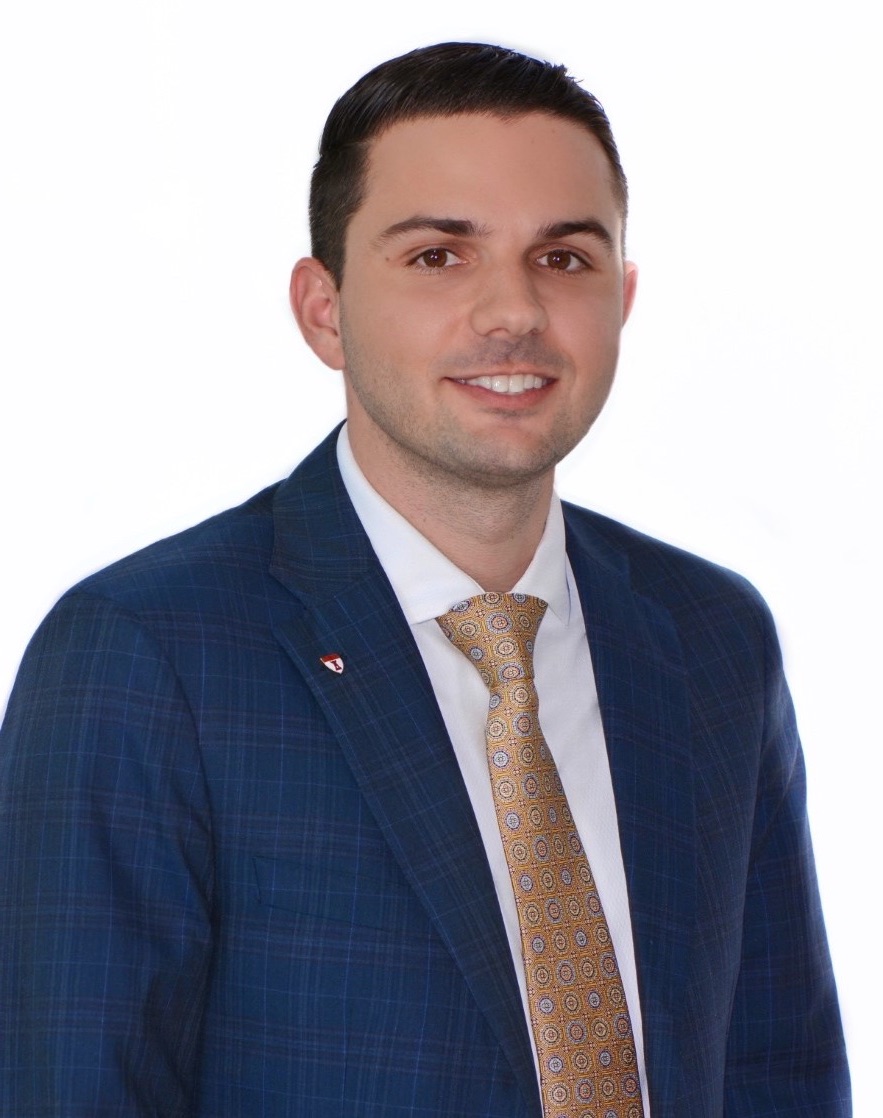 Education:
Doctor of Dental Medicine Degree – Harvard Dental School
Master of Science and Certificate in Orthodontics – Nova Southeastern University
Board Certified – American Board of Orthodontics
Our State of the Art Offices - 4 Convenient Locations
Miami Location
Located on 8th Street and 22nd Avenue, easily accessible from Miami, Brickell, Miami Beach, South Miami, Coral Gables, Key Biscayne, Kendall and the surrounding areas.
2260 SW 8th St, #202, Miami, FL, 33135
Fort Lauderdale Location
Located on W Commercial Blvd between I-95 and the Turnpike, easily accessible from Fort Lauderdale, Pompano, Plantation, Sunrise, Tamarac, Coconut Creek and the surrounding areas.
3201 W Commercial Blvd #124, Fort Lauderdale, FL 33309
Hialeah Location
Located right off of I-75 on Miami Gardens Drive, easily accessible from Hialeah, Miami Lakes, Pembroke Pines, Miramar, Miami Gardens and the surrounding areas.
8551 NW 186th St. Hialeah, FL, 33015
North Miami Beach Location
Located on 19th Avenue right off of Miami Gardens Drive, easily accessible from North Miami Beach, Aventura, Miami Beach, Hollywood, Miami Gardens and the surrounding areas.
18110 NE 19th Ave. North Miami Beach, FL, 33162
Office Hours: M-F: 9 AM – 6 PM
Braces Treatment
$2,300-$3,995*
12 Months of Observation After Treatment

Satisfaction Guaranteed on All Our Treatments
Invisalign Treatment
$3,695-$5,695*
12 Months of Observation After Treatment

Satisfaction Guaranteed on All Our Treatments
*Actual fee will depend on length of treatment required, which will be determined during your consultation. Monthly payments shown based on financing through CareCredit® at 16.9% for 48 months.
Free Consultation – Our doctors will perform a full examination and discuss all findings and treatment options that best fit your needs – at no charge and with no obligation. We don't believe in pressure selling or tactics. We are an honest group of people that worship our reputation and we are here to help in any way we can.
Low Monthly Payments – Our goal is to make our exceptional treatment and service available to everybody. That's why we offer 0% in-house financing. We don't require any credit history or information. We do this in good faith to help our patients. For those who need it, we also offer extended payment plans through CareCredit.
Transparent Pricing – All our treatments are all-inclusive. We don't charge extra for anything related to your treatment. Whether you have an emergency, break a bracket, need a special appliances, or just want to come in to discuss your treatment – we never charge extra for any of these. We want to get the financials out of the way so we can focus on what we do best – provide exceptional patient care.
Free retainers with treatment – All our treatments include free retainers. We don't charge separately for retainers like you may have heard in other practices. We also do follow-up appointments for a year after treatment is completed. Our reputations is very important to us and we want to make sure you're happy during and after treatment.
We accept most dental insurances – Our team will work with you and your insurance company to get you the most coverage possible, thus reducing your total cost.
Satisfaction guaranteed on all our treatments – Our ultimate goal is to make our patients happy. We are in the "happy people" business. That's why we have a satisfaction guaranteed on all our treatments – or your money back.
Our Promise – That we will treat you as family and that we'll put our hearts and souls into making this the best experience you'll ever receive with any health care provider.
New Year Limited Time Promotion
Request your Free Consultation in the next:
and receive a Professional Whitening Treatment (a $300 value) for FREE when you start your treatment
Testimonials From Actual Patients
"They are friendly and professional. They also look after your best interest. Great payment plans and extremely flexible for your schedule. Best experience I've ever had."
"I am ecstatic about the results of my teeth. Without a doubt I recommend anyone to come to this clinic, they won't let you down."
"The best service I've had in a long time 💕"
"Excellent service, brought my eldest daughter for braces. We were so satisfied and came back now to bring my youngest. Highly recommend!! They take care of you every step of the way and are there whenever you need. Like family."
"Where should I start? First of, the attention we received was AMAZING. The office always looked clean and very fancy! The staff was great, the service was great, EVERYTHING WAS GREAT! I will sure recommend this place to ANYONE! You will not be disappointed. These are nice and serious people with very competitive prices. Thank you Alejandro and Agustin. Keep up the great job! Taking care of your customer is number one and top priority and you guys did just that."
"He's great and his team is very professional. If you are thinking about having the most beautiful smile dealing with nice and prepared staff then you have to schedule an appointment with Dr. Drubi"
"The appointment availability was great and almost never any wait time. The cost of the treatment was very reasonable and affordable. Overall, an excellent experience."
"Awesome Office! Super nice people! Helped me with every step it took for my braces. Not in the office for hours, doesn't hurt you, and very understandable to your lifestyle. Highly recommend this to anybody!!! The best!!!!"
"Amazing staff, place and excellent service! Couldn't be more happy and impressed with my new smile."
"First off I want to thank the entire team at Drubi Orthodontics. I've struggled with my teeth and finding the right orthodontics for years. You guys are literally the most kind, understanding, and most accommodating team in the field. Thank you to Dr. Drubi and the team for helping me put confidence in my smile. I used to close my mouth when I would smile but now I can't stop looking at it! I've been to other orthodontics prior before for consultations where the offices wouldn't get back to me and even lost my records. What felt different at Drubi Orthodontics is that they got to know me pretty well over the past two and a half years and showed that they cared. Even though I'm extremely happy that my braces are finally off and they look great, it's a bittersweet feeling knowing that I won't be going in and seeing the team as often. If you're looking for an orthodontics that is friendly, helpful, and great at what they do, it is definitely here. I attached some pictures from before and after for everyone to see what a miracle Drubi Orthodontics can achieve! Once again, Thank you guys for all you do!"
Why Choose Drubi Orthodontics?
Honesty and Transparency: We are an honest group of people that put our hearts and souls into helping each and every one of our patients. You can count on us being completely honest and transparent about every aspect of your treatment. Our reputations is our most valued quality and we build it every day by treating our patients like family.
The Best Team: Our goal is to provide you with the best experience you've ever had with any healthcare provider. And there is only one way of doing that – working with the best people. We only hire highly qualified and experienced people to join our team. Not only do we hire based on experience (most of our team has 10+ years of experience in the orthodontic industry), but amazing personalities as well. You will find the most welcoming team when you come visit us – people that truly care about you and are here to make sure you receive the highest level of care.
Free Consultations: At our Miami orthodontist office, we offer free, no obligation braces and Invisalign consultations, including digital x-rays. Also, if you have already seen another orthodontist for braces or Invisalign in the Miami area, we invite you to come in for a complimentary second opinion with our experts.
Affordable Smiles: We offer flexible financing options for braces and Invisalign, including 0% Financing Payment Plans and CareCredit. We also offer free monitoring for patients who are not ready for treatment, free retainers after treatment, family and friends discounts, and complimentary second opinions.
Insurance: We accept most dental insurance and will work to get you the maximum coverage possible. 
Convenient Hours: At Drubi Orthodontics, we value your time. That's why we offer evening appointments until 7PM in our Miami orthodontist office. You have enough to worry about, and we guarantee you will not have to miss work or school to get a beautiful, confident smile.
No Waiting: We see 99% of our patients in less than 5 minutes. Even though you will find a TV, magazines, and refreshments in our reception area, that is not what you came here for! Also, in most cases there is the option of starting treatment the same day! Our time is not more important than yours. And we stand by that.
We Support Our Community: When you choose Drubi Orthodontics, you are choosing an office that supports your community. We continually support our local schools, activities, events, and charities. We also provide free orthodontic and pediatric dental care to children in need in our community.
Top-Notch Specialists: When you choose Drubi Orthodontics for yourself or your child, you can put your mind at ease. Our specialists are leaders in their fields and have gone through extensive education at some of the best programs in the country.
Braces Case 1
This patient presented to our clinic because she was not happy with the crowding of her teeth and how they stuck out when she smiled. This patient chose clear braces as her treatment option, which took 2 years to complete. Our list of problems to correct included:
Narrow smile

V-shaped arch

Protruded teeth

Crowding
This was a very challenging case that required a lot of planning and careful execution. This required us to think and plan the space needed in 3 dimensions since it included expanding the smile, retracting the front teeth, aligning the teeth, and matching the midlines. Notice the difference in the width of the smile and how it fills the space between the corners of the mouth, giving us a smile that is more in harmony with the face. Planning our treatment to accomplish this and not only to align the teeth is what makes us specialists and allows us to consistently provide results beyond ordinary for our patients.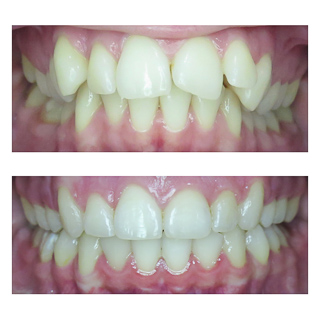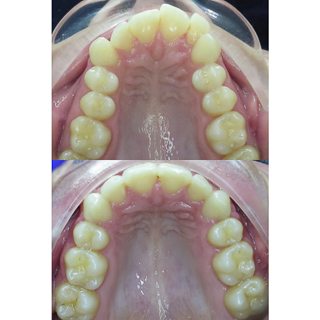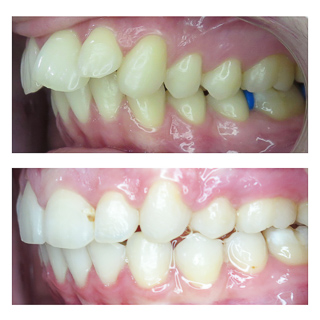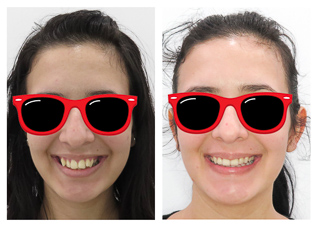 Braces Case 2
This patient came to our clinic because she was interested in fixing her smile. Her main concerns were the crowding of the teeth and their protrusion (sometimes referred to as "buck" teeth"). The goals for this patient included:
Align the teeth

Bring back the teeth so they are not sticking out
This very complex case took a little over 2 years and we were able to achieve all the goals we expected using clear braces. Patient was ecstatic with the results and so were we!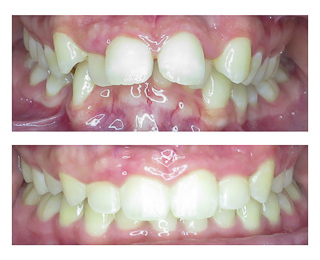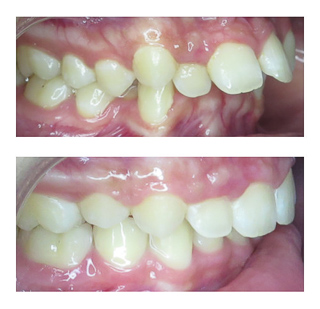 Invisalign Case 1
This patient came in with the complaint that she didn't like the space between her upper and lower teeth. It was also affecting the function of her teeth, making it hard to bite into food. She chose to go with Invisalign for her treatment, which took 21 months to complete. Complex cases like these are challenging with any treatment modality. Proper treatment planning, execution and experience are extremely important in these kinds of cases to achieve a good result. This patient was amazing and complied with all instructions, which really helped us achieve a beautiful smile for her! Notice the huge change in this smile once the teeth are brought together, with the upper teeth covering the space between the front teeth. Also note the widening of the smile, making it more harmonious with the face.
Invisalign Case 2
This patient came in with the complaint that she didn't like the space between her upper front teeth. She chose to go with Invisalign for her treatment, which took 14 months to complete. Notice the huge difference in the smiles before and after the gap closure. The most important part about these cases is maintaining the space closed after treatment is completed. For this patient, we used both fixed permanent retainers and clear retainers to be used at night time to avoid the space from re-opening.
For a limited time, download a free copy of our latest book "The Ultimate Guide to Getting Braces"
In this comprehensive guide, we reveal everything you must know before choosing an orthodontist for yourself or your family, including:
Reasons to straighten your smile most people don't know about
Signs that indicate your child may need early treatment
How long does treatment take?
How do I choose the best orthodontist?
What treatment options are available?
How much do braces cost?
How to get the most out of your insurance coverage
Ways to save money on braces and Invisalign
And much more…
*Note: PDF book will open in a new page
Once you're ready to find out more about how we can help you achieve a beautiful smile, the next step is to schedule your free consultation. During the initial consultation you will:
Meet the doctor and team at Drubi Orthodontics
Tour our state of the art office
Obtain x-rays that will help in the diagnosis of your case
Obtain a thorough examination
Sit down with the doctor to review all findings
Discuss all possible treatment options
Ask any questions about your treatment
Meet with the office manager to figure out a payment plan that you'll be comfortable with
In many cases, to avoid the hassle of coming back for another visit, we also offer the possibility of starting treatment the same day